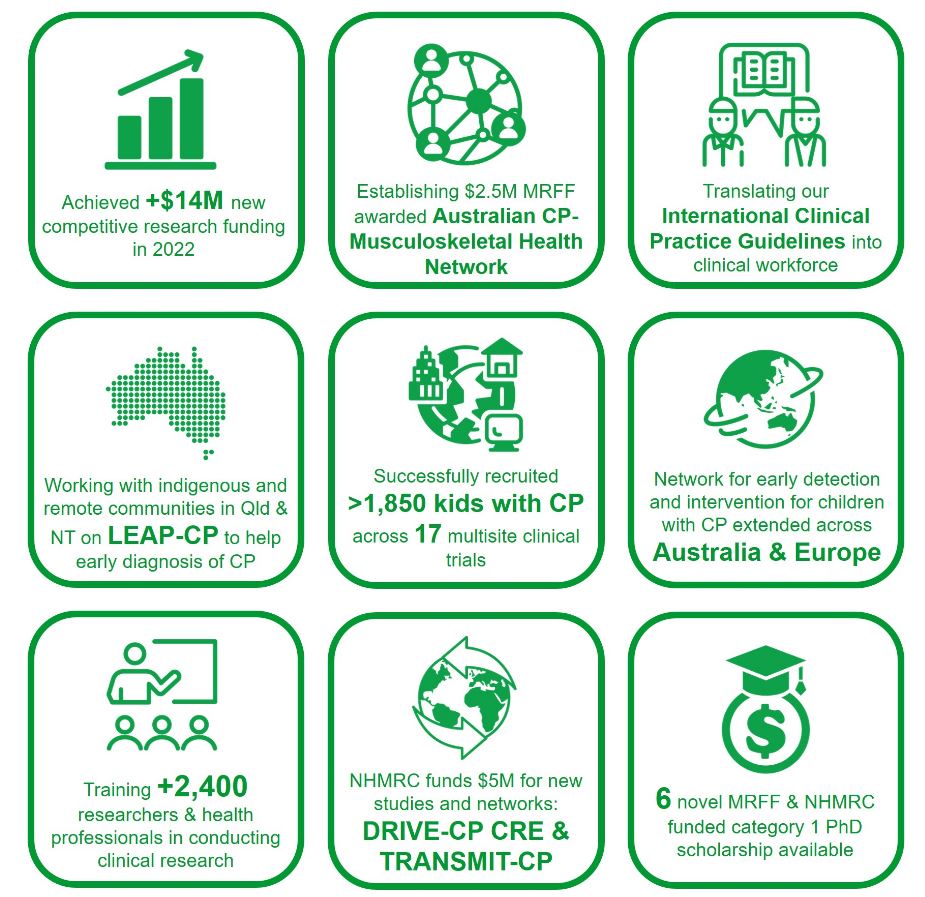 The Australasian Cerebral Palsy Clinical Trials Network (AusCP-CTN, NHMRC Centre for Research Excellence) is a multi-national team of experts in paediatric neurology, neonatology, epidemiology, rehabilitation and knowledge translation – coming together with one vision –continued reduction in the incidence of CP and improved outcomes in children. Since establishment of the network in 2017, the team has been working tirelessly towards our vision, through developing and implementing international clinical practise guidelines across clinical settings, upskilling the clinical work force for earlier detection and diagnosis of CP in infants, testing the efficacy of novel interventions for children with cerebral palsy and their families, and working with consumers and families to develop inclusive user-friendly family support for the community.

In 2022 we have concluded our first NHMRC Centre of Excellence (CRE) funding in October; excitingly in collaboration with the Cerebral Palsy Alliance, the team has been awarded with a new NHMRC Health Services CRE "CP-DRIVE: Direct Research Into Very Early Cerebral Palsy", led by Prof. Iona Novak.

During 2022 the overall AusCP-CTN & QCPRRC team has secured $14.1M+ new research funding, including prestigious awards from MRFF (Australian Cerebral Palsy Musculoskeletal Health Network, led by Prof. Craig Munns, UQ) and NHMRC (CP Synergy Program, Partnership Grant TRANSMIT, and a new Centre for Research Excellence to continue our achievements, CP-DRIVE).

In 2022, the team has continued to extend our clinical trials across Australia, Europe, especially working in the LEAP trial with indigenous communities in regional and remote Queensland and now in Darwin in the Northern Territory, and supporting the EU Horizon Teams in Sri Lanka and Georgia in Eastern Europe. Leading the successful LEAP-CP program and as the Australian-arm of the international BornToGetThere, the project team has successfully recruited >145 infants for screening and 12 infants to the Early Intervention LEAP clinical trial to date. We continue to engage with our Aboriginal Medical Services in QLD and NT to develop further capacity with our local community workers to upskill and translate our LEAP surveillance and early support program in urban, regional and remote Aboriginal and Torres Strait Islander communities.

We have also been successful in achieving a second EU Horizon Grant on Artificial Intelligence in Cerebral Palsy where with our colleagues Dr Alex Pagnozzi, Dr Jurgen Fripp at the Australian e-Health Centre at CSIRO and Dr Giusy Sgandurra the University of Pisa we will use AI and Machine learning to combine MRI, clinical, and wearable sensors to develop a diagnostic decision tool and an Upper limb Action Observation training Platform for children with unilateral CP.

We hope you enjoy reading about some of the key achievements and highlights from our network, and - whether you are a network member, parent, researcher, clinician, or one of our many supporters – join our network as we would be delighted to work with you. 


Warm regards,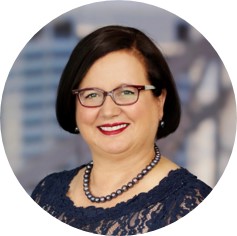 Prof. Roslyn Boyd
On behalf of the AusCP-CTN & QCPRRC Investigators Team
Prof. Iona Novak, Prof. Morrison Euan Wallace AM, Prof. Nadia Badawi, Prof. Michael Fahey, Prof. Stephen Rose, Prof. Paul Colditz, Prof. Jenny Ziviani, Prof. Catherine Elliott, Prof. Susan Stott, A/Prof. Leanne Sakzewski, Dr Sarah McIntyre, Dr Jurgen Fripp, Dr Kerstin Pannek, Dr Alex Pagnozzi, Dr Katherine Benfer.