The Australasian Cerebral Palsy Clinical Trials Network AusCP-CTN unites key opinion leaders and clinicians working in the field of cerebral palsy across all states of Australia, along with international partners in New Zealand, Europe, SE Asia and USA. The AusCP-CTN aims to foster and develop current and future leaders in cerebral palsy research and clinical practice. Our vision for the future workforce for children with CP is to build national capacity comprising individuals with expertise in more than one key area of research and/or training (basic science/ neuroscience, epidemiology, clinical/health services initiatives, and translation/ implementation). Through our extensive Education Program we aim to provide and facilitate a range of interactive clinical trainings and workshops for researchers and clinical professionals. To date our Education Program has benefited over 2,400+ clinicians, health professionals, researchers, and higher degree research students in upskilling their knowledge and skills in novel paediatric neurological research, diagnosis and interventions, Systematic Reviews, and an Intensive Grant Writing program.
In 2022, teams across the Queensland Cerebral Palsy & Rehabilitation Research Centre (QCPRRC) and AusCP-CTN have hosted 5 General Movements workshops (Brisbane and Cairns with total of 52 Advanced and 54 Basic attendees), the BOHA Both Hands Assessment for bilateral CP (online, 20 attendees), Systematic Review & GRADE Analysis Workshop (online, 29 attendees).
Further information about our Education Program and Webinar Series on our research projects, please refer to our website
AusCP-CTN Education Program - EOI 
2022 Systematic Review & Grade Analysis Workshop - online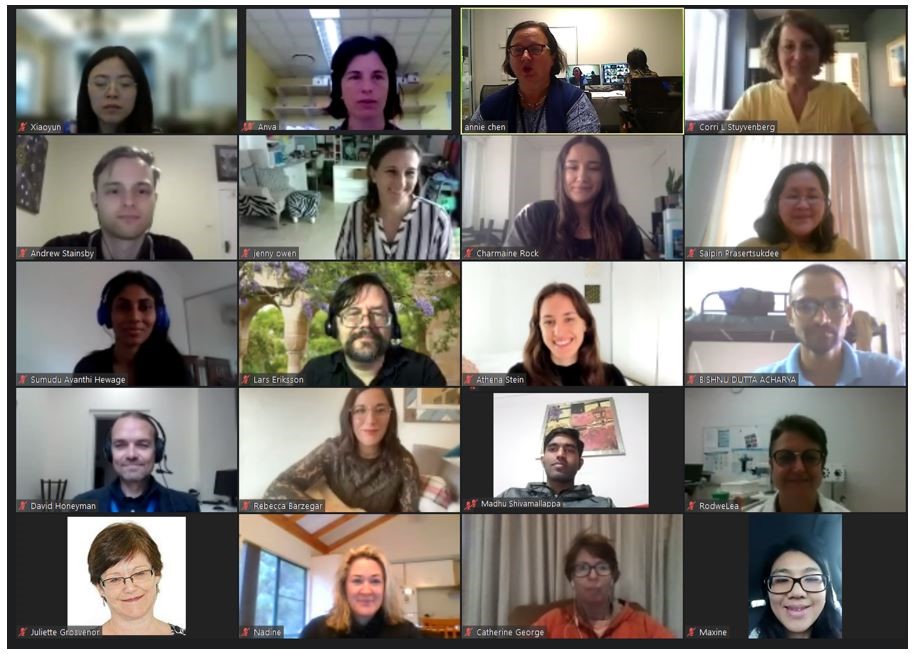 A virtual nine-week Systematic Review Workshop was held online, 13 May – 29 July 2022. The interactive workshop was designed to enable the attendees to gain a comprehensive knowledge and practical experience in conducting a systematic review and meta-analysis of efficacy of treatment, a clinimetric review of measures, and/or a review of diagnostic criteria for a clinical area. Despite challenging time differences, the intensive nine-week workshop attracted 36 attendees (researchers, higher degree research students, medical clinicians and allied health professionals) from across time zones, from Australia, Thailand, Malaysia and the USA. From QCPRRC, Prof Ros Boyd, A/Prof Leanne Sakzewski led the course with input from in-house Research Occupational Therapist Dr Andrea Burgess, and Prof. Robert Ware (biostatistician and clinical epidemiologist, Griffith University) who presented lectures on Biostatistics for Clinical Trials, Meta-Analysis and Clinimetrics.
As part of the Systematic Review Workshop, Dr Sue Brennan from Melbourne GRADE Centre were also invited to conduct a one-day interactive session on GRADE analysis. GRADE (Grading of Recommendations, Assessment, Development and Evaluations) is a transparent framework for developing and presenting summaries of evidence and provides a systematic approach for making clinical practice recommendations. Workshop topics included: Overview (GRADE in systematic review, guideline process), Interpreting effect estimates, How to GRADE the evidence, Using the GRADE criteria, Making recommendations.
More information on 2023 Systematic Review Workshop