Our research themes and streams
The Australasian CP Clinical Trials Network will generate new knowledge across five themes:
The four workgroup streams across all five themes in the Aus-CP-CTN include:
New Knowledge Generation stream: in epidemiology, pre-clinical and clinical trials;
Clinical & Research Training stream: to build capacity nationally the CRE will support 11 new post-doctoral fellows and 10 new PhDs with leadership, grant writing and mentorship;
Implementation & Translation stream: with Knowledge Translation tools and CPG; and
Health Economics, Patient Reported Outcome Measures & Telehealth solutions stream: implementation of new knowledge, underpinned by health economics with flexible delivery.
Figure: AusCP-CTN framework for generating new knowledge across the five themes.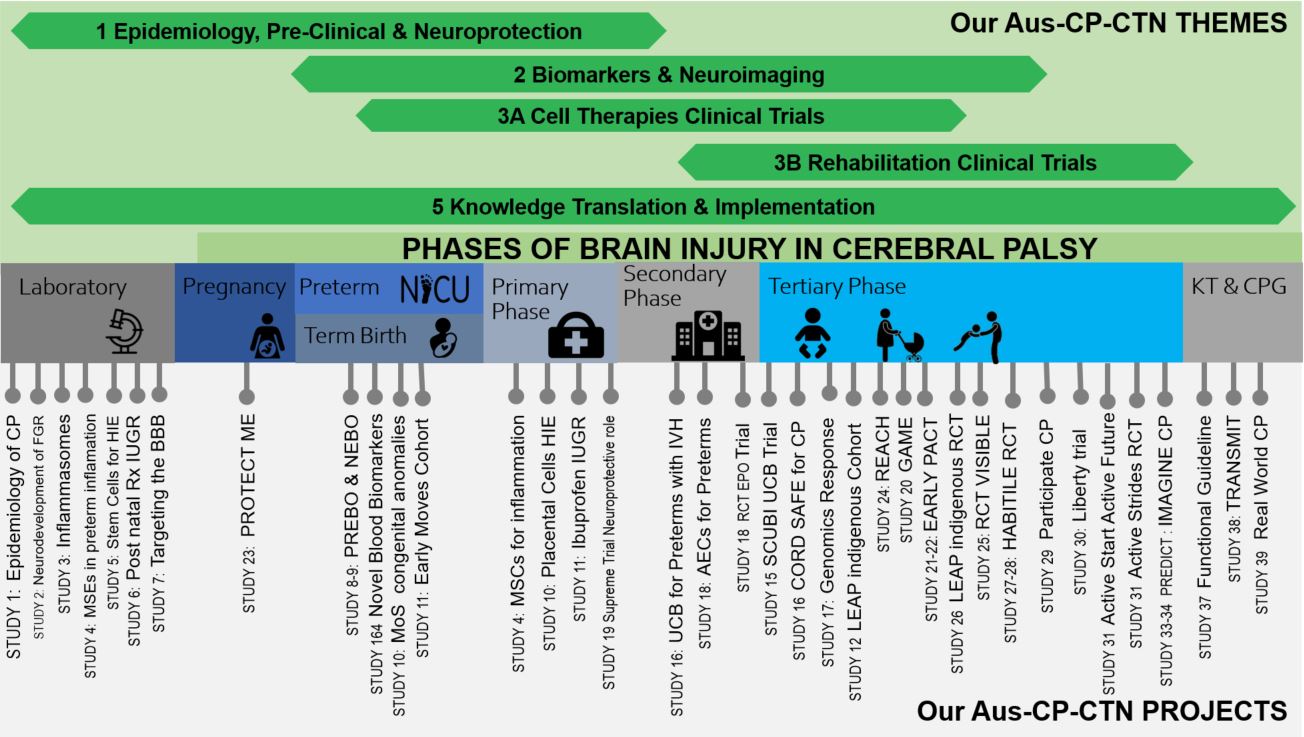 Expected Outcomes of New Knowledge Creation:
1. Undertake National Epidemiological studies via the ACPR, NZ and World CP Registers;
2. Undertake >7 pre-clinical Trials of new neuroprotectants and Brain repair interventions.
3. Undertake 7 cohort studies of novel biomarkers for early detection of CP and NDD.
4. Undertake >3 Cell Therapy Clinical Trials for children with CP.
5. Undertake >15 RCTs on interventions to improve outcomes for CP.
6. Undertake >5 population based cohort studies to understand the natural history of CP.
7. Undertake >4 Knowledge Translation studies to implement into clinical practice.
These clinical trials, cohort and implementation studies will build capacity with 10 new PhDs and 11 new Post-doctoral fellows part funded by the CRE and supported by the CRE sites.
Click on the links below to learn more about the activities in each CRE theme.
Participate in our reseach
Are you keen to volunteer in our research to help us improve outcomes for children with cerebral palsy?

Learn more