The Australasian Cerebral Palsy Clinical Trials Network AusCP-CTN unites key opinion leaders and clinicians working in the field of child neurology across all states of Australia, along with international partners in New Zealand, Europe, SE Asia and USA. The AusCP-CTN aims to foster and develop current and future leaders in cerebral palsy research and clinical practice. Our vision for the future workforce for children with CP is to build national capacity comprising individuals with expertise in more than one key area of research and/or training (basic science/ neuroscience, epidemiology, clinical/health services initiatives, and translation/ implementation). Through our extensive Education Program we aim to provide and facilitate a range of interactive clinical trainings and workshops for researchers and clinical professionals. To date our Education Program has benefited over 2,200+ clinicians, health professionals, researchers, and higher degree research students in upskilling their knowledge and skills in novel paediatric neurological research, diagnosis and interventions, Systematic Reviews, Grant Writing, and dissemination through our annual International CP Hot Topics program.
AusCP-CTN Education Program - EOI 
The Australasian Cerebral Palsy Clinical Trials Network (AusCP-CTN) has joint forces with colleagues at the Queensland Children's Hospital, and hosted a joint-conference – 2021 Biannual Rehab for Kids Conference (3 – 4 March 2021 and the first virtual International Hot Topics in Cerebral Palsy Research Forum (5 March 2021). The conference was a great platform uniting leaders and colleagues in the field from Finland, Norway, Italy, USA, and national experts across Australia. The one-day international CP research forum showcased the latest advances and research achievements in early diagnosis and intervention to improve outcomes for children with CP around the world.  
The one-day online international CP research forum was a great success, attracting 180+ attendees online (70% clinicians, 24% researchers, and 6% students), across multiple time zones. The forum included presentations from leading researchers and clinicians in the field of neurology and disability in children, presenting latest updates from both Australian and Norwegian Cerebral Palsy registers, early, research outputs on neuroprotection in clinical and pre-clinical trials, harmonisation and automated analysis of neuroimaging, automated assessments of GMs, evidence-based rehabilitation, also implementation of early diagnosis and intervention of CP models with communities based in remote and hard to reach areas.
In particular, the following international invited keynote speakers were featured:
A/Prof Guro L Andersen & Dr Sandra Julsen Hollung (Vesfold Hospital Trust, and Oslo University Hospital, Norway) - Update from the Norwegian quality and surveillance registry for cerebral palsy (NorCP)

Dr Sarah McIntyre & Dr Shona Goldsmith (Cerebral Palsy Alliance Research Institute) – Update from the Australian Cerebral Palsy Register (ACPR)

Prof. Nadia Badawi AM (Cerebral Palsy Alliance) – Prevention of CP: What else can we do?

A/Prof. Michael Fahey (Monash Children's Hospital) – Update on Genomics of CP

Yana Wilson (Cerebral Palsy Alliance) – ICPGC Updates: The CP Commons and common data elements

Prof. Iona Novak (Cerebral Palsy Alliance) – Stem cell for cerebral palsy: Current state of the science

Prof. Rod Hunt (Monash Children's Hospital) – Neuroprotection for the extremely preterm infants: A potential role for stem cells

Rachel Byrne (Cerebral Palsy Foundation, USA) – Implementation of early detection of CP in USA

Prof. Yannick Bleyenheuft (Université catholique de Louvain, Belgium) – Recent advances for early HABIT-ILE in children with cerebral palsy

A/Prof. Andrea Guzzetta & Olena Chorna (The University of Pisa, Italy) – BornToGetThere: Implementation of early detection and early intervention service delivery in infants at risk for cerebral palsy to promote infants' psychomotor development and maternal health.
2021 International Hot Topics in CP Research Forum - Full Program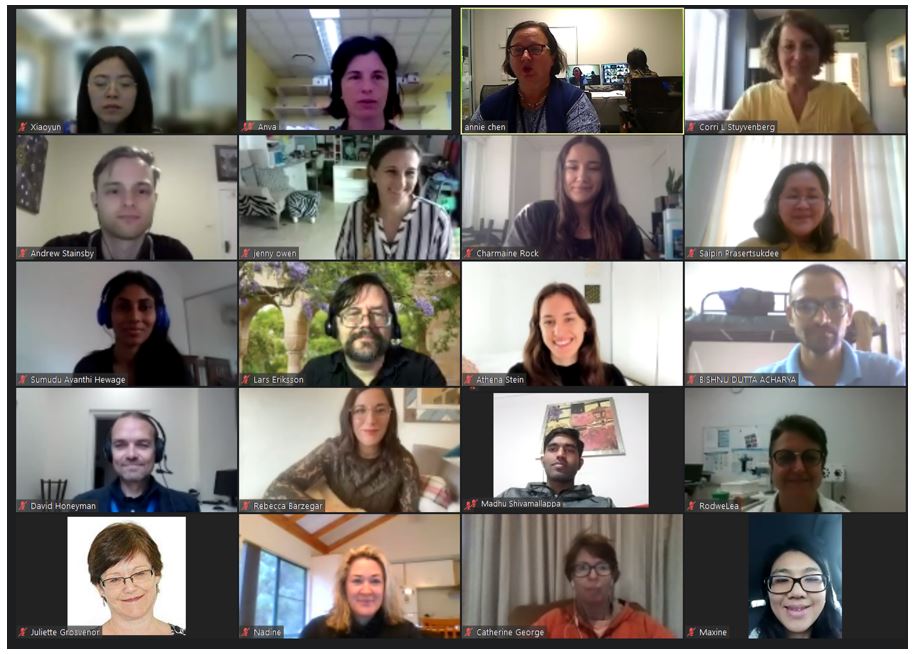 A virtual nine-week Systematic Review Workshop was held online, 9 July – 8 October 2021. The interactive workshop was designed to enable the attendees to gain a comprehensive knowledge and practical experience in conducting a systematic review and meta-analysis of efficacy of treatment, a clinimetric review of measures, and/or a review of diagnostic criteria for a clinical area. Despite challenging time differences, the intensive nine-week workshop attracted 56 attendees (researchers, higher degree research students, medical clinicians and health professionals) from across the time zones, Australia, Nepal, Thailand, Malaysia and the USA. From QCPRRC, Prof Ros Boyd, A/Prof Leanne Sakzewski lead the course with input from our in-house Biostatistician, Mark Chatfield and Research Occupational Therapist Dr Andrea Burgess, who presented lectures on Biostatistics for Clinical Trials, Meta-Analysis and Clinimetrics.
As part of the Systematic Review Workshop, Dr Sue Brennan from Melbourne GRADE Centre were also invited to conduct a one-day interactive session on GRADE analysis. GRADE (Grading of Recommendations, Assessment, Development and Evaluations) is a transparent framework for developing and presenting summaries of evidence and provides a systematic approach for making clinical practice recommendations. Workshop topics included: Overview (GRADE in systematic review, guideline process), Interpreting effect estimates, How to GRADE the evidence, Using the GRADE criteria, Making recommendations.
As a collaborative initiative with colleagues across the AusCP-CTN CRE and The University of Queensland (Faculty of Medicine), Prof. Roslyn Boyd facilitated an online three-day intensive Grant Writing Workshop, delivered entirely online via Zoom. The workshop was designed as a professional development opportunity for our researchers and clinicians who are undertaking research to 'take advantage' of down time that may have resulted from the COVID-19 pandemic, to work with experts from across the institutes to elevate and sharpen their grant writing skills to better prepare for future funding opportunities.
This is the fifth year Prof. Boyd has facilitated the workshop. The team was fortunate to have keynote presentations from experts such as Prof. Ian Frazer, UQ on "grantsmanship and the MRFF", Prof. Iona Novak on philanthropic funding and opportunities, and Dr Jodi Clyde-Smith UQ Director of Research on investigator grants and impact statements. The workshop has attracted 31 mentees (early, mid, and senior career researchers and clinicians from hospitals and units across UQ's Faculty of Medicine, with 11 mentors who had very generously contributed their time and mentorship on achieving successful research profiles. We also invited Research Development Managers, Biostatisticians, and Impact Metrics Librarians to work with workshop mentees to refining their draft applications. The workshop covered a range of topics and components in preparing a successful grant application, including consultation with mentors on investigator/partnerships/ideas grant and career directions, project pitch, developing impact statement, impact evidence using alt metrics, sample size and statistics analysis, philanthropic opportunities, involving consumers in research and working with aboriginal and Torres strait Islander communities. The workshop concluded with mock grant panel review and discussions, providing insight to early career researchers on areas to focus on when grant is being reviewed.
Sign up to our AusCP-CTN CRE Education Program to find out about upcoming courses.