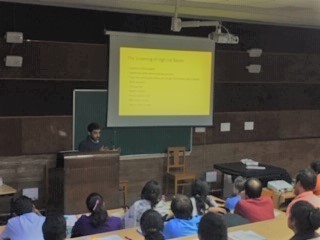 As the first conference to implement training on the early detection of CP and early intervention using the LEAP-CP program "Learning through Everyday Activities with Parents" across the SAARC (South Asian Association for Regional Cooperation) countries, the event was held in central Kolkata at the SSKM Hospital. With local coordination by Mr Asis Ghosh Senior Physiotherapist at the Indian Institute of Cerebral Palsy, the event attracted over 70 attendees both in person and via teleconferencing. The symposium united six SAARC nations (India, Sri Lanka, Vietnam, Bhutan, Nepal and Bangladesh) in an evidence-based early detection and early intervention program which implements the first international CPG (Novak 2017).
The conference was opened by the Director of Medical Education, Department of Health, West Bengal Government, Dr Debasis Bhattacharya and Dr Suchandra Mukherjee, Head of Neonatology at the SSKM Hospital / Postgraduate Institute of Medical education and Research in Kolkata. Dr Mukherjee reported on their extensive experience in neonatal follow-up at the SSKM hospital. Experts from Australia (The University of Queensland and Queensland Children's Hospital), India (Indian Institute of Cerebral Palsy, Asha Bhavan Centre, Dr BC Roy Postgraduate Institute of Paediatric Sciences, Indian Institute of Technology Kharagpur, Child In Need Institute), Italy (The University of Pisa, General Movements Trust) and USA (Dr Linda Lawrence, Vision assessment and intervention), the symposium began with a full 3.5-day General Movements Assessments training (conducted by A/Prof. Andrea Guzzetta, GMs Trust), a Hammersmith Infant Examination Assessment training (conducted by Carly Luke, Paediatric Physiotherapist, Queensland Children's Hospital, CP Alliance PhD Scholar), Early assessment and intervention for infants with Cerebral Visual Impairment (Conducted by Dr Linda Lawrence and A/Prof. Guzzetta) and an interactive workshop on delivering 'Learning through Everyday Activities with Parents of infants with Cerebral Palsy (LEAP-CP)' program (conducted by Dr Katherine Benfer and Prof. Roslyn Boyd).
Specifically, the symposium focused on:
Early detection using two gold standard CP screening tools (General Movements and Hammersmith Infant Neurological Examination).
Early intervention principles and techniques for infants at high risk of CP;
LEAP-CP program content and service delivery model, and introduction to the UQX training platform.
Practical implementation workshops for early detection and delivering LEAP-CP.
Early assessment and early intervention for infants with Cerebral Visual Impairment and CP.
The symposium aimed to enhance the visibility, research collaborations and organisational partnerships of The University of Queensland in the Indian Sub-Continent, particularly in the health sector. India accounts for a large number of university enrolments (second largest after China at UQ), and the health field is experiencing significant growth. Sponsored by both the Cerebral Palsy Alliance and The University of Queensland, the symposium offered 26 travel scholarships to encourage attendance of strategic leaders and health professionals from the SAARC countries to attend, enhancing global connections and preparing for implementation of LEAP-CP Early Detection and Intervention Programs across six countries under the banner of UQ and the CP Alliance.
More info about LEAP:
LEAP-CP: Learning through Everyday Activities with Parents with children with CP – is a community and allied health oriented RCT. Led by Dr Katherine Benfer and Prof. Roslyn Boyd , the project team in Kolkata have screened >800 babies, conducted GM/HINE assessments, and recruited >140 infants identified as high risk of CP to the LEAP-CP early intervention program  delivered by community workers withparents in the  home. The program is currently being evaluated and based on our experiences in Kolkata; the LEAP-CP Project is now being further evaluated in an RCT with Indigenous families In QLD and WA and as RCT's In Georgia and Sri Lanka as part of the BORNTOGETTHERE program.