Involving Consumers in Research Workshop - Researchers, Clinicians, and Consumers
1 November 2018

9:00am

–

4:00pm
Involving families and community members in your research
Developed in direct response to researcher enquiries about practical ways to involve consumers and community members in their research this workshop was designed to help researchers:
Increase awareness of the value of involvement
Develop understanding and skills on the 'how and why' of implementing involvement
Identify and address the barriers to consumer and community involvement
You will learn from researchers and community members with first-hand experience of consumer and community involvement in research.

Are you a person with Cerebral Palsy (CP), or caring for someone with CP or a condition that requires rehabilitation?
We invite you to attend an interactive workshop that seeks to learn more about the experiences of families and carers. By understanding your views and observations, we hope to inform and shape our research.
We also encourage you to join our Consumer Council if you're keen to play an ongoing role in informing our research.

Five good reasons to attend:
Inform and shape research priorities by sharing insights about living with a child with cerebral palsy or rehabilitation needs.
Help researchers understand the real issues impacting you and your child.
Learn more about the research process.
Be part of the forefront of research for children with CP and rehabilitation needs.
Meet other parents and carers of children with similar conditions.
Meet the Workshop Facilitator - Anne McKenzie AM
Anne McKenzie, AM has worked as the Consumer Advocate at UWA and Telethon Kids Institute since 2004 and is currently the Head of the WA Consumer and Community Health Research Network.
She currently serves on key national and state health committees including the National Health and Medical Research Council, NPS, Medicines Australia and the Department of Health. Anne was appointed to the Order of Australia in 2015 for her services in the area of health consumer advocacy.
---
About 2018 AusCP-CTN Education Week 2018 1st - 6th November, Allambie Heights, Sydney - Hosted by the Cerebral Palsy Alliance
The AusCP-CTN CRE aims to foster and develop current and future leaders in cerebral palsy research and clinical practice. Our vision for the future workforce for children with Cerebral Palsy is national capacity building comprising individuals (Medical/Allied health) with expertise in more than one key area of research and/or training (basic science/neuroscience, epidemiology, clinical/health services initiatives, and translation/implementation).
Following the success of the Education Week in 2017, the 2018 AusCP-CTN Education Week will be another great opportunity for the network to showcase the work being done to improve early diagnosis and intervention for children with, or at risk of, cerebral palsy.
---
The AusCP-CTN Education Week is hosted by the Cerebral Palsy Alliance
187 Allambie Road, Allambie Heights, Sydney, NSW 2100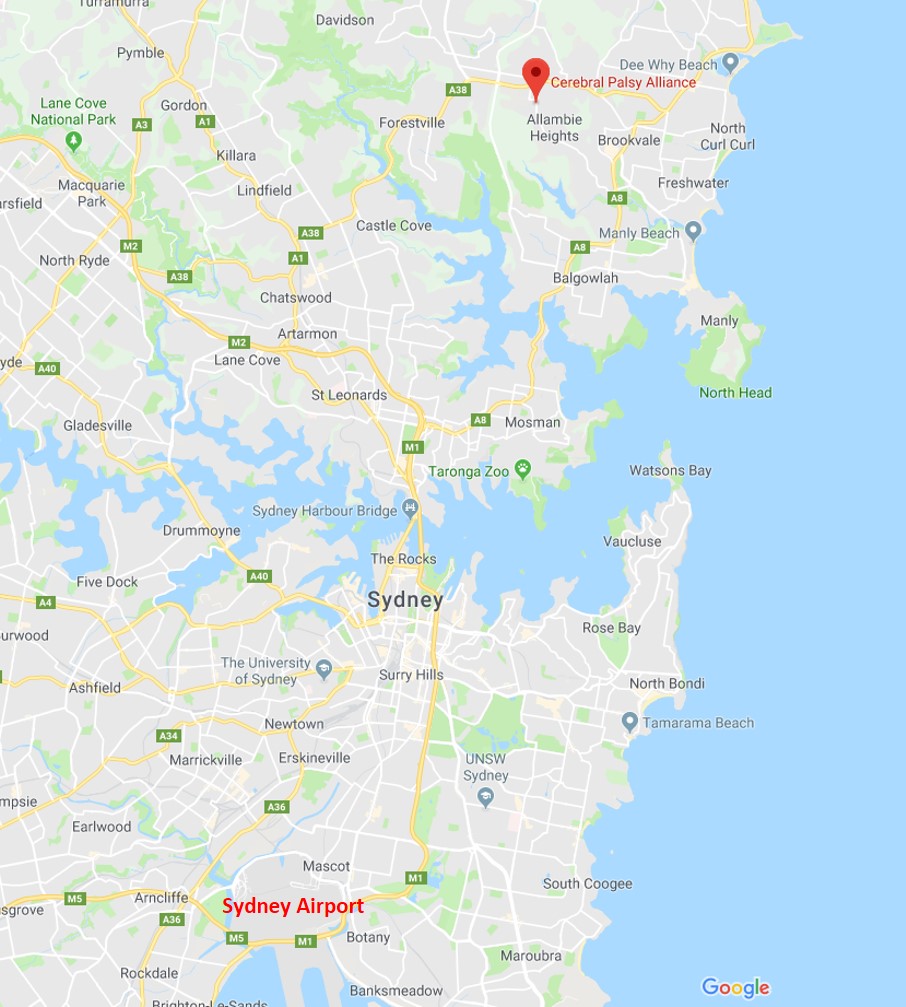 By Taxi:
Cerebral Palsy Alliance is approximately 35km away from Sydney Airport, or 20km away from Sydney CBD.
By Public Transport (from Sydney Airport or CBD):
Train/Bus from Sydney Airport to Sydney CBD (Circular Quay)
A Ferry from Circular Quay to Manly (35 min, or fast ferry 20 min) and then a 142 Bus - Manly to Allambie, Belgrave St Stand F. Stop at the corner Allambie Rd and Sunlea Pl. (30 min)
Or take the B-line to Mona Vale (yellow double decker) from Wynyard Station, Carrington street Stand B. (35 min) Transfer at Manly Vale – Condamine street. Take the 142 Bus - Manly to Allambie. Stop at the corner Allambie Rd and Sunlea Pl. (15 min)
Or take the 270 Bus to Terrey Hills from Wynyard station, Clarence street stand 5. Stop at the corner of Warringah Rd and Woodlands St in Forestville (35 min). Take the Forest line Bus 280 Chatswood to Warringah Mall. Stop at the corner Allambie Rd and Sunlea Pl. (20 min).

 
Venue
178 Allambie Road, Allambie Heights, NSW 2100.